PTFE, abbreviated as polytetrafluoroethylene, is a widely used thermoplastic material. Often used for PTFE diaphragm.
Diaphragms are usually used in various places, such as fluid control, but combining them into PTFE containers has many benefits, making them an emerging alternative to other diaphragm materials.
Firstly, polytetrafluoroethylene has a very low melting point, which makes it very flexible when used as a diaphragm material. This flexibility means that the diaphragm is unlikely to rupture or damage due to temperature changes or excessive use. This thermal stability enables them to be used in applications involving hot or cold fluids or gases, such as low-temperature systems or high-temperature processes.
In addition, PTFE has high chemical resistance and corrosion resistance, including acid, alkali, solvent and Corrosive substance, providing a longer service life for the diaphragm. Its porous surface makes it very suitable for applications that require the retention or transfer of chemicals or other fluid materials. This material is also non-toxic and will not bring any taste or odor to the fluid it controls.
This chemical inertia makes PTFE membrane suitable for chemical processing, pharmaceutical, oil and natural gas industries, where exposure to Corrosive substance is common.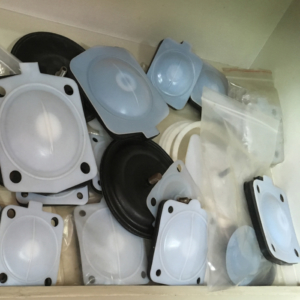 PTFE diaphragm has reliable sealing capabilities and can effectively prevent leakage in both low-pressure and high-pressure applications. Even under challenging conditions such as corrosive chemicals, temperature changes, or mechanical stress, they can maintain a tight seal.
Another major benefit of using PTFE diaphragm is that maintenance costs are very low. Because it is made of a single material, the diaphragm does not require extensive maintenance or inspection to maintain its normal operation. Due to its high compressive strength, PTFE is highly suitable for high-pressure applications, allowing it to withstand pressures up to 10000psi with almost no leakage. Moreover, its non stick surface can prevent accumulation, thereby improving flow efficiency, which means that the pressure drop caused by friction is minimized.
PTFE membranes also have excellent flexibility and elasticity, allowing them to withstand repeated compression and relaxation cycles without losing their shape or performance. They can maintain their sealing performance over a longer lifespan, reducing the need for frequent replacement and related downtime.
Hygienic and compliant with Food and Drug Administration: Teflon is non-toxic and chemically inert, and is suitable for applications where purity and hygiene are critical, such as food and beverage processing or pharmaceuticals. PTFE diaphragm generally meet the requirements of the Food and Drug Administration and meet the strict requirements for contact with consumables.
Although PTFE membranes have many advantages, they also have some drawbacks. Due to PTFE being a semi rigid material, its installation cost is higher than other diaphragm materials, especially for applications that require tighter sealing, as correct installation requires higher force. In addition, making it have the same characteristics of chemical resistance and corrosion resistance also makes it more difficult to repair when damaged.
Overall, PTFE diaphragms are an excellent choice for commercial and residential applications due to their long lifespan, minimal maintenance, and high operational efficiency. They are non-toxic and easy to replace when necessary, and can be used for various fluid control needs. From chemical processing to food, beverage, and pharmaceutical applications, PTFE membranes are an excellent solution for those seeking reliability and consistency.
GENERAL SEALTECH is a factory with 15 years of experience in diaphragm production.We started to manufacture diaphragms in 1990 and entered the international market in 2007. We provide high-quality PTFE diaphragm, rubber diaphragms, rolling diaphragm, regulator diaphragm and pump diaphragm to our cooperating customers.